Looking for fun things to do in Las Vegas? Try one of our ATV Tours!
If you're searching for fun things to do in Las Vegas, Skiwi Rentals has a great idea for you to consider: How about going ATV riding? For those who have gone ATVing before, you know it is some of the best fun you can ever have on land. And for those of you who haven't, please know that going ATVing is not very hard to learn, and is loads of fun, even for beginners! Please don't worry if you've never ridden an ATV before, instruction is provided.

Skiwi Rentals currently offers 3 tours to El Dorado Canyon, Mt. Charleston, and the Valley of Fire. Our tours make the perfect gift for a friend, family member, or special someone. They also make great addition to a Las Vegas bachelor or bachelorette party. Hotel pickup is provided, as well as light refreshments, so it's a great way to have fun and get the most out of you Vegas trip. Please note that a minimum of 4 people are required per tour, but also that we can combine your group with another if yours is too small.

Need some more information? Please don't hesitate to call us at 702-568-8999. You can also visit us at 1620 N Boulder Hwy, Henderson NV 89011

Honda TRX250EX semi-automatic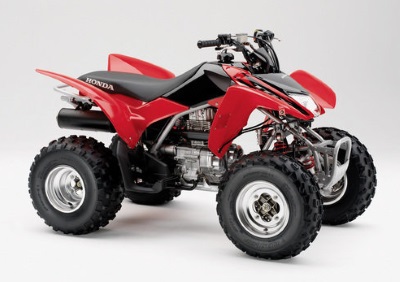 Operating our semi-automatic ATV's is very easy and instruction is provided.
Tours run for 4 hours including hotel pickup. Refreshments & a light snack are provided.
8am & 1pm hotel pickup is provided.
A minimum of 4 people are required per tour.
Please call us if your party is less as we can add you to another group.