Fun Things To Do in Las Vegas: Fishing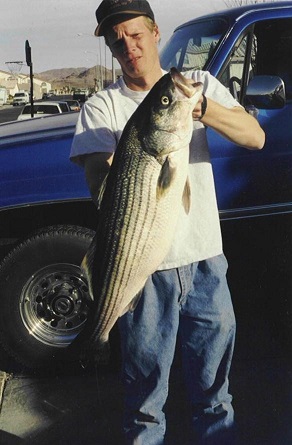 Thinking of doing something in or around Las Vegas but not sure what? How about fishing at Lake Mead? There are a variety of species of fish you can find at Lake Mead. There are rainbow trout, largemouth bass, channel catfish, striped bass, bullhead catfish, green sunfish, bluegill sunfish, carp, and more!
You will also find similar types of fish at Lake Mohave.
How to Get to Lake Mead from Las Vegas
:
Take East Lake Mead to Callville Bay Rd.
Take E Lake Mead Blvd and NV-167 to Callville Bay Rd for 33.4 mi
Follow Callville Bay Rd to your destination 3.9 mi
Turn right onto Callville Bay Rd at 3.9 mi
Turn left to arrive at: Lake Mead National Recreation Area Temple Bar Marina, AZ 86443 Estimated travel time is 59 minutes and a distance of 38 miles from Las Vegas, NV
How to get to Lake Mohave from Las Vegas
Las Vegas, NV
Head northeast on N Las Vegas Blvd toward E Ogden Ave-0.2 mi
Turn right to merge onto I-515 S/US-93 S/US-95 S-19.6 mi
Continue onto US-93 S/US-95 S-2.2 mi
Continue onto US-93 S-3.2 mi
Turn left to stay on US-93 S
Entering Arizona-49.2 mi
Turn right onto 1st St-4.3 mi
Turn left onto Coyote Rd-1.2 mi
Turn right onto Cottonwood Rd-13.3 mi-Turn left onto Pot Cove Rd-0.5 mi
Lake Mohave Need a vehicle to tow our watercraft to the lake?
No problem! We have SUV's available for just $50
Do you have any more questions? Please feel free to visit us in person, or please call

SKIWI RENTALS
1620 N Boulder Hwy, Henderson, NV 89011
Ph: (702) 568-8999

Hope to see you guys soon!
Book Rental